the fashion breath of Africa
Over 35 years ago Woodin began its fashion bid by introducing fabrics inspired by African
arts and culture.
These modern interpretations have been adopted by Africans and other fashion consumers for many years.Woodin continues to be relevant to generations by constantly inspiring fashion styles as well as being the fashion voice for Africa. Woodin is the first African brand to start mainstream fashion and retail across various African countries and has contributed to the contemporary fashion scene and the ready to wear evolution in Africa.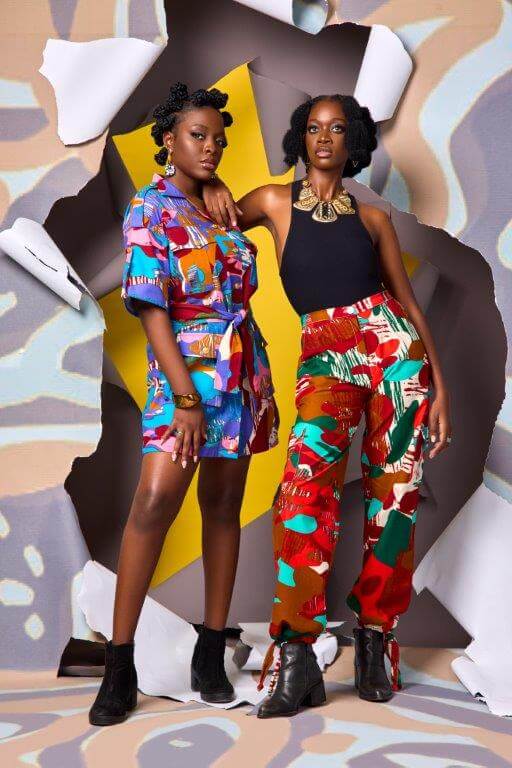 the true definition of
African fashion
We are Woodin, the true definition of African fashion. Our goal is to fuse African fabrics with modern designs, tailored to suit people from all walks of life. Our designs are a bold reflection of the contemporary African and our symbolism places the continent in the eyes of the globe. This has been the vision of Woodin; designing Africa and representing it through fashion. As a brand, we focus on translating our heritage, symbols, art, colour, energy, sound, language, and the textures of Africa, combined with a global appeal, into alluring works of art. With our exquisite fabrics, ready to wear clothing and fashionable accessories, we take pride in leading the ever-evolving landscape of African fashion.
Woodin is refreshingly uncompromising when projecting the African identity, always bringing a new wave of fashion that screams "Africa" to the world. We are you-centric, inspired by African culture, and made for Africa and beyond. We seek to unleash the pride that lays within you. It's a feeling. It's in the rhythm that makes your heart throb. Patterns that connect you to the roots of African originality and ingenuity.
A statement that speaks with no words. It is a way of life. A beautiful expression of culture through fashion. It's a tribe. It's a movement. The Woodin Nation, we call it, where all belong as ambassadors of Woodin.
We inspire the world. We are Woodin. Le Createur
Woodin, born and raised in Africa, vibrates the cultural diversity of its continent. We are loved by our consumers for our contemporary designs which are crafted in tandem with their ethnic symbols and drawings. Whilst inspired by Western influences and contemporaries, our textiles and fashion fully embrace African culture and translate it with a modern style. 
As a brand we focus on all things that unite Africa. We focus on the heritage and cultural identity of the African lifestyle. These ingredients form the basis of our design expression which inspires our consumers across Africa and beyond. Our designs exhibit bold and exotic colours to reflect the latest fashion statements. We capture the smell of calabash, the heat of the sun, the rustling of the jungle and the vibe of the urban jungle, that are our bustling cities today. No brand expresses Africa the way we do. We are wholly African; Africa is in us, and we bring out Africa in style.
Woodin is a market leader in African fashion retail with 22 stores across the continent. We believe our stores are much more than just stores. They are inspiring spaces designed to create a positive ambiance for all who enter them. Woodin retail stores offer much more than just shopping. This is shopping in comfort whilst getting professional advice and fashion inspiration. The Woodin retail experience merges a modern retail experience with an open market buzz and upbeat vibe.
Our retail concept is inspired not only by our own identity but by that of our consumers and followers. Our stores and fashion ranges reflect African confidence and versatility in a creative, young-spirited atmosphere. They act as a mirror of Africa today; vibrant, creative, diverse and versatile. And just as Africa is the number one emerging market, Woodin is the no. 1 Pan-African fashion retailer.
Contemporary African Fashion
Woodin is the first African brand offering a contemporary fashion range. Our limited-edition fabrics, ready-to-wear outfits and fashionable accessories that are constantly evolving have become part of the new African fashion identity. Woodin turns their beautiful African prints
into accessible, easy-going garments to appeal to the consumers. 
We take pride in spearheading the Ready to Wear evolution that embraces African fabric and translates it into fashionable fashion statements. We lead the evolution by staying ahead of the trends and bringing inspiration to our Afrocentric consumers. Through continuous innovation in new fabric designs and creative interpretations of the latest trends, we surprise our consumers with unique fashion statements that make them feel unique. Fashion that is affordable, on trend and accessible. African fashion that is inspiring the world at large.